Want to purchase something on this page? Simply e-mail me at susan@susanbrubakerknapp.com. I can invoice you via PayPal. I also accept Venmo payments and personal checks. Some of my publications and video workshops are no longer available in print or DVD formats, but can be purchased from the publishers directly as e-books and digital downloads. 

Point, Click, Quilt!
 Turn Your Photos into Fabulous Fabric Art


Learn to compose and shoot dynamic digital photos from a quilter's perspective. Then, follow the fun workshop-style exercises and step-by-step directions to turn your photos into small art quilts, both realistic and abstract. Includes patterns for 16 art quilts inspired by my digital photographs. Most of my projects use fused batik and hand-dyed fabrics, but four projects include innovative materials (paint, Tyvek, Angelina fibers, and foils). You'll also be inspired by the gallery section of the book, which includes beautiful work by other gifted art quilters I know. 112 pages. $27.95
Out of print. Available only through
C&T Publishing
as an e-book ($19.99),
or print-on-demand paper copy ($29.95).
Appliqué Petal Party:
A bouquet of 16 blocks & flowering border
This pattern pack includes full-size patterns for the sixteen 12-1/2" blocks and the scalloped floral border in the Pink Petal Party quilt, plus a booklet with my needle turn appliqué basics and step-by-step instructions for the quilt, which is 73" square. Everything is packaged in an envelope, so the patterns are easy to pull out and use. You can make the whole quilt or use one block as a pillow or wall hanging. It's also perfect as a block-of-the-month project. Instruction booklet and full-size patterns. $11.99
U.S. Media Mail shipping: add $4
International shipping: add $14
Quilting Arts Workshop DVD
Master Machine Stitching:
Thread Sketching Beyond the Basics

"Following up on the concepts introduced in her first DVD, Quilting Arts columnist Susan Brubaker Knapp delves even deeper, teaching you how to add color, dimension, texture, pattern, line and movement to your quilts using thread. After a quick overview of the basic materials you'll need, as well as some helpful tools to make things easier, Susan breaks down each of the six topics (from color to movement) and provides step-by-step machine stitching demos. She shows numerous samples that illustrate the basic thread-sketching concepts being discussed. Prepare to expand your view of the opportunities for using stitch on your quilts." 76 minutes. $19.95
Quilting Arts Workshop DVD
Dynamic Quilt Design: Paint Meets Stitch

"Learn how to turn your photos into realistic wholecloth painted quilts. After an overview of the supplies and tools you will need, Susan Brubaker Knapp walks you through every step of her process. Learn how to choose the right photo, trace the design elements, enlarge your drawing, and print it out. Next, Susan covers basic color theory and provides instruction on mixing paint colors, shades, and tints. She discusses how to approach painting your piece and how to add shadows and highlights for greater realism. And finally, Susan demonstrates how to use stitch to bring your painted piece to life with thread sketching and quilting." 68 minutes. $19.95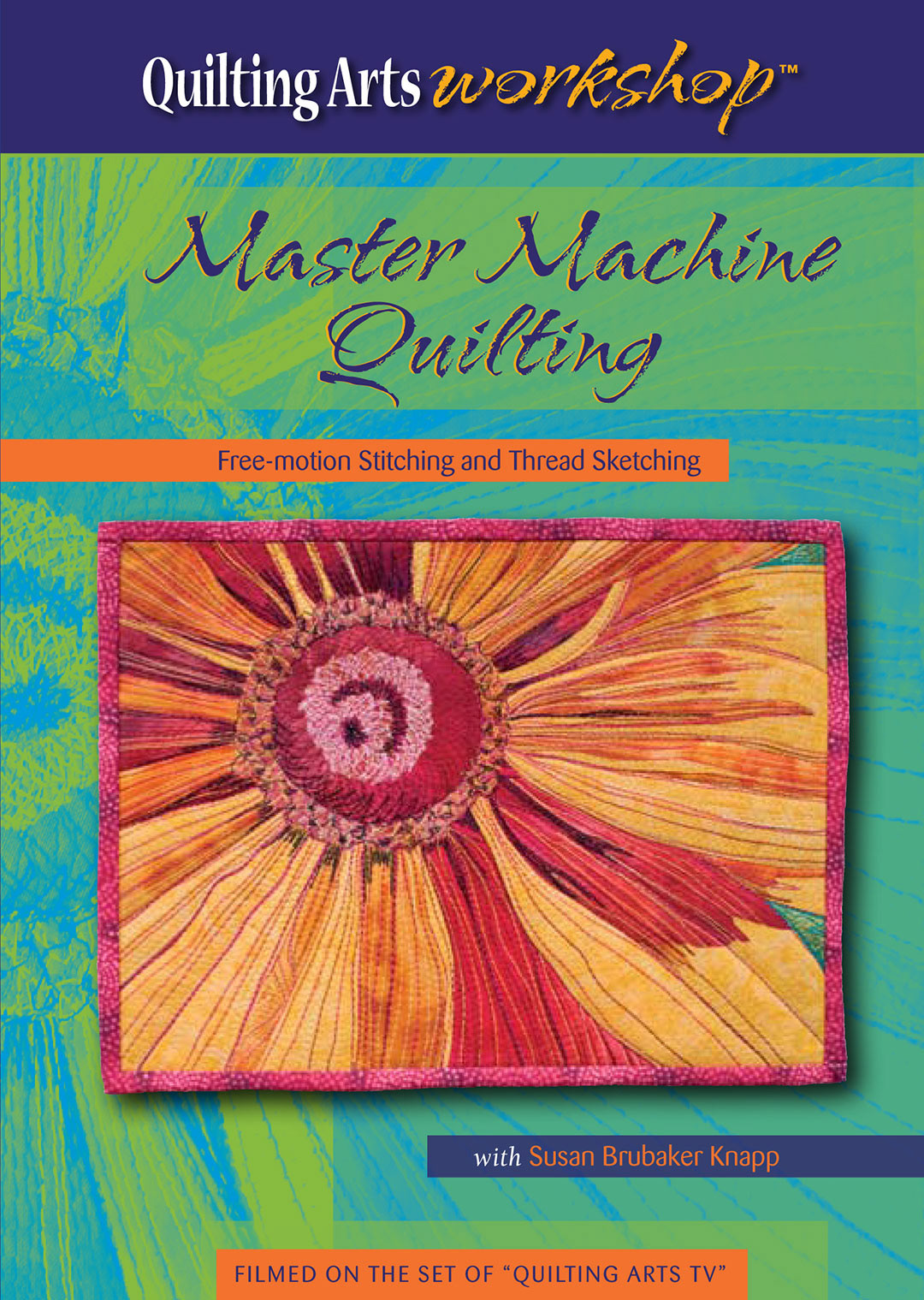 Quilting Arts Workshop DVD
Master Machine Quilting:
Free-Motion Stitching and Thread Sketching

"Susan teaches you the basics of free-motion machine stitching, including thread work to enhance the surface and quilting to hold the layers together beautifully. Find out what materials you'll need and how to get started. Beginners and intermediates – and those who have been too terrified to try until now – will find inspiration and answers, as well as lots of tips, techniques and practical information to improve their machine stitching. Stitchers of all levels will benefit from Susan's thorough approach – from her careful consideration of materials and preparation, to the difference between thread sketching and machine quilting."  57 minutes. $19.95
U.S. Media Mail shipping: add $4
International shipping: add $14
Quilting Arts Workshop DVD
Fabulous Finishes: Seven Techniques for
Binding, Facing, Framing, & Hanging a Quilt

"Susan explains and demonstrates seven techniques that show not only how to bind and hang your quilts with perfect results every time, but also meet the requirements of quilt show judges. Techniques Susan covers include: Basic quilt binding with mitered corners; satin-stitch edging that lies flat and doesn't buckle; pillowcase-turn method that allows finishing the edges before quilting; facing a quilt for a clean, contemporary look; framing in a shadow box; hanging using slats to keep a quilt straight and flat; and making a quilt sleeve with space for a hanging rod or slat."  73 minutes. $24.99
U.S. Media Mail shipping: add $4
International shipping: add $14
Quilting Arts Workshop DVD
52 Free-Motion Quilting Motifs and Fillers

"Join Susan Brubaker Knapp as she demonstrates how to masterfully stitch 52 quilting filler motifs using a domestic machine. These are the designs you are looking for – from simple stipples and loops to more complicated geometric and straight-line fillers. With Susan's expert guidance and a little practice, you can expand your quilting repertoire with dozens of new designs. An image of each motif has been clearly drawn in black-and-white and included on the screen as Susan sews. Her illustrations make it easy to see where the quilting starts and stops, and how the completed design should look. All of the designs are included with a printable PDF along with this video, so you can follow along as you practice."  68 minutes. $24.99
U.S. Media Mail shipping: add $4
International shipping: add $14
Notecard Pack: I'll Fly Away, Pink Coleus, Daffodils, Sea Glass
A pack of four notecards, and four white envelopes. Shipped in a clear plastic sleeve. $12
USPS shipping: $3
Notecard Pack: fancy goldfish, papillion, wicked in green, october morning
A pack of four notecards, and four white envelopes. Shipped in a clear plastic sleeve. $12
USPS shipping: $3
1-1/2" square magnet featuring the mascot of the University of North Carolina at Chapel Hill.  $3
USPS shipping: $1
8" square museum-quality pigment ink print  featuring the mascot of the University of North Carolina at Chapel Hill, suitable for framing. Shipped on cardboard in a clear plastic sleeve. $18
USPS shipping: $5
"tar heel tough" notecard
5-1/2" square notecard featuring the mascot of the University of North Carolina at Chapel Hill, with a blue envelope. Shipped in a clear plastic sleeve. $3
USPS shipping: $1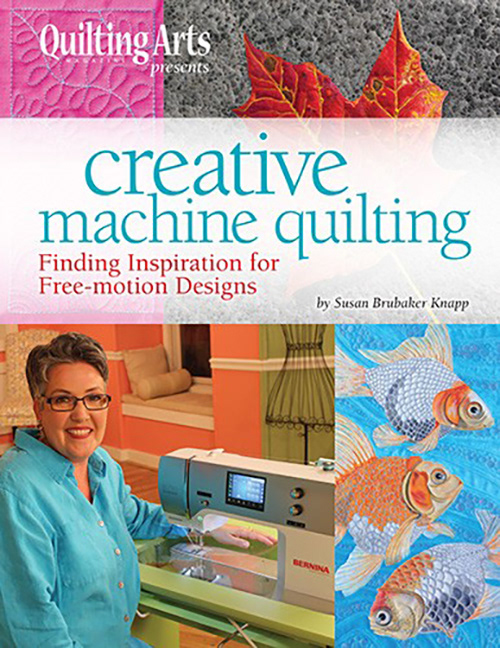 Quilting Arts e-Book
CREAtive machine quilting: finding inspiration for free-motion designs
"Quilt artist Susan Brubaker Knapp, known for her creative machine quilting designs and free-motion quilting patterns, provides insight into her approach to creating, refining, and ultimately quilting her unique library of patterns. This six-article series appeared first in Quilting Arts Magazine. Susan provides clear drawings as well as stitched samples of 36 unique free-motion designs. All six articles from the year-long series are included in this easy-to-reference eBook. $9.99
Quilting Arts e-Book
CREAtive machine quilting: finding inspiration for free-motion designs

This is a compilation of my 2011 articles on thread sketching – ways to add color, line, texture, dimension, pattern and movement with thread. "Learn to thread sketch like a pro from award-winning art quilter Susan Brubaker Knapp."  $9.99